Composition of the Council for Gender Equality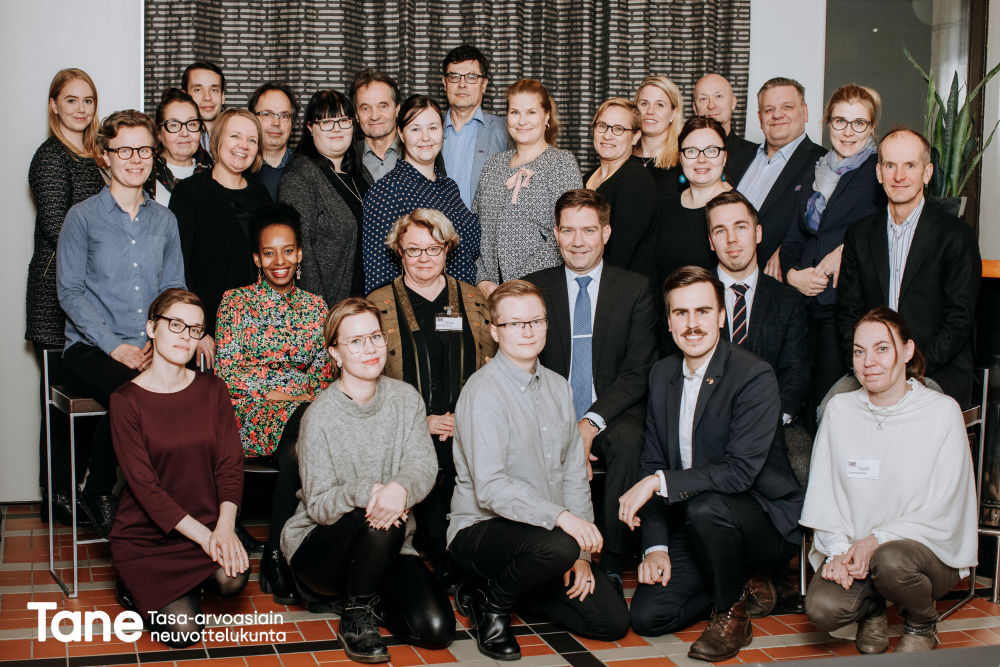 Council for Gender Equality (Tane) and minister Thomas Blomqvist, November 2019. Photo: Mari Waegelein
The Government appoints the Council for Gender Equality (Tane) for the duration of a parliamentary term. Therefore, the council will operate until a new council has been appointed.
Jirka Hakala (Centre), Special Adviser to the Minister of Agriculture and Forestry was appointed chair and Bella Forsgrén (Greens) as deputy chair of the council, which started its term on 19 September 2019.
The council, which takes into account the Finnish Parliament's power relations, consists of members appointed by the parties. In addition, four central organisations in the field of gender equality are advisory members: The Central Association for Men's Organisations in Finland, The National Council of Women of Finland, The Coalition of Finnish Women's Associations - NYTKIS and Seta - LGBTI Rights in Finland.
Tane's composition
Chair:
Special Advisor to the Minister of Agriculture and Forestry Jirka Hakala
Centre Party of Finland
Vice chair:
Member of Parliament Bella Forsgrén
Green League
Members (Substitute member):
Research Director, MD, PhD, Associate Professor Hannu Kokki
(Member of Parliament Niina Malm)
The Finnish Social Democratic Party
Member of Parliament Matias Mäkynen
(Political Advisor Roosa Pöyhönen)
The Finnish Social Democratic Party
Member of Parliament Katja Taimela
(Docent Tapio Bergholm)
The Finnish Social Democratic Party
Member of Parliament Sanna Antikainen
(Advisor to the Member of Parliament, Practical Nurse, Marika Sorja)
The Finns Party
Expert Juha Järä
(Bachelor of Laws, Master of Economics Nuutti Hyttinen)
The Finns Party
Secretary General Mikko Wikstedt
(Personal Assistant to a Member of Parliament, Jessica Vahtera)
The Finns Party
Member of Parliament Saara-Sofia Sirén
(Secretary General Maija Uusi-Oukari)
National Coalition Party
Administrative coordinator Viljami Wiirilinna
(Secretary General Joonas Pulliainen)
National Coalition Party
Executive Director Elina Havu
(Principal Ulla Parviainen)
Centre Party of Finland
Specialist on Women's Politics Silla Kakkola
(Jouni Sirén)
The Left Alliance
Member of Parliament Eva Biaudet
(Vice President of Swedish People´s Party of Finland Henrik Wickström)
Swedish People's Party of Finland
Permanent Advisers:
Chair Kimmo Runonen
(Vice President Pasi Salonen)
The Central Association for Men's Organisations in Finland
Secretary General Terhi Heinilä
(Advocacy coordinator Maria Mailasalo)
The National Council of Women of Finland
Coordinator Laura Keskinen
(Docent Mira Karjalainen)
The Coalition of Finnish Women's Associations - NYTKIS
Chairperson, Bachelor of Medicine Sakris Kupila
(Expert Sara Sundell)
Seta - LGBTI Rights in Finland
Updated 10.5.2022